May 2, 2022
How to Help Your Kids Understand the Value of a Dollar
Young children tend to think money simply appears somehow and that their parents have an unlimited supply to spend on them. This is, of course, highly unrealistic, and part of your job as a parent is to help your kids understand the value of a dollar and grow into responsible adults. This might seem like an overwhelming task, but here, Gainplan shares a few easy ways to get your kids started on the road to financial literacy.
Set a Good Example
One of the best ways to help your kids learn about money is to set a good example for them. Let them see you working on the household budget (if you have one), paying bills, saying "no" to a purchase you don't really need, and putting money into a savings account. Kids are masters of imitation, so make sure that your financial habits are sound.
Involve Your Kids in Family Finances
You should also involve your kids in family finances as much as possible. Show them your latest budget and explain the difference between income and expenses. Let them see the two columns and explain to them what that means for your family. When you go shopping, let your kids help you decide what to purchase, focusing on concepts like price, quality, quantity, want, and need.
Let Your Kids Practice
Children learn by doing, so let your kids practice with money. Give them an allowance, but make sure they earn it. Set up a list of chores based on your age and ability. Then explain to them that they will have to check off a certain number of chores each week to receive their money. Also, set up a savings account for each of your kids and insist they deposit a percentage of their allowance in that account every week or month.
Boost Math Skills
For children to grow in their financial abilities, they must also boost their math skills. Sit with your kids as they do their math homework, answering their questions and explaining concepts they're still unsure about. You might also provide them with a variety of math games that will allow them to learn and have fun at the same time. These are available online through educational game sites, many of which are free to play.
Encourage Your Kids to Start a Business
Finally, you might encourage your kids to start their own business. It doesn't have to be complex. Something as simple as a lemonade stand or a dog-walking or lawn-mowing service will do. Explain to your kids how they can get their business up and running even if they don't have much start-up capital. You might suggest an angel investor (grandma or grandpa, perhaps), a microloan, or even crowdfunding. Then work with them to set prices, prepare their product or service, and commit to their work.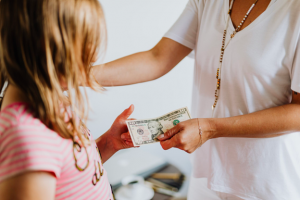 Build Your Kids' Financial Literacy
You kids need to know how to handle money if they're going to do well in life, so start them out by giving them a good example, involving them in family finances, letting them practice, building their skills, and encouraging them in business.
So, start by making a plan to build your children's financial literacy and success today. Contact us to see how Gainplan can help.
Laura Pearson is passionate about teaching the younger generation. Edutude was built to share resources on how to keep children engaged and in love with learning.