March 12, 2023
March Madness and the DJIA – Winners & Losers
Can we see patterns from one year to the next or is it a maddening bracket?
Newspapers, radio, and TV news programs refer to the Dow Jones Industrial Average every day, calling it the Dow, sometimes the Dow Jones or even the DJIA. And economists and financial advisors pay close attention to its daily changes and the longer trends. But what exactly is the Dow Jones Industrial Average, does it really matter, and can one see performance patterns from year to year?
A Brief History of the DJIA
The Dow Jones Industrial Average is a stock market index used to assess movements in the market and its overall strength or weakness. It was created in 1896 by Wall Street Journal editor and co-founder of Dow Jones & Company, Charles Dow.
The Dow tracks the market performance of 30 large, American companies. Initially, the Dow had only 12 stocks and these included such golden oldies as American Cotton Oil Company, U.S. Leather Company, and Distilling & Cattle Feeding Company. In 1920, the Dow expanded to 20 stocks and then to 30 stocks in 1929.
The Dow is constantly changing, although the additions and deletions don't happen very often. In fact, there have only been 57 changes since its inception, with the last change in August of 2020 when Salesforce.com replaced ExxonMobil and two years before that Walgreens replaced General Electric. Due to its age, the Dow Jones Industrial Average represents a continuous chart of our nation's economic growth, along with its ups and downs.
Consider these milestones:
· The Dow first hit 1,000 in late 1972;
· It hit 10,000 in March of 1999;
· The Dow reached 17,000 in July of 2014;
· It closed above 25,000 in January of 2018; and
· It closed a whisper short of 33,000 on March 15, 2021 (closed at 32,953), which is almost exactly where the Dow closed one year later (closed at 32,945 on March 14, 2022) and higher the year after that (closed at 32,155 on March 14, 2023).
Let's Play March Madness with the DJIA
Some people think it's a good idea to buy last year's best Dow performers, figuring that they will continue to perform well and reward investors. Others prefer to buy last year's worst Dow performers, thinking that their fortunes will magically reverse.
So, we decided to play our own version of March Madness and rank the top and bottom 3 companies in the Dow based on 2022 performance. So, using performance from 2022, let's list the Top 3 best and worst performers from the Dow.
2022's DJIA-Winners/Losers
Let's be honest for a second: In 2022, the DJIA delivered one of the most disappointing years in some time. And while many were happy to see 2022 in the rear-view mirror, we probably all wish for 2021's performance, which was nothing short of impressive, especially given the headwinds of COVID-19.
Who could have predicted that in 2021, the DJIA would rise 18.7% and then in 2022 would lose 8.8%? Maybe 2022's three best- and worst-performing stocks from the DJIA can inform?
Interestingly, two companies removed from the DJIA were amongst the top-performing firms in 2022, with Exxon Mobil Corporation and Raytheon Technologies Corporation providing a total return of 84.60% and 18.08%, respectively. And newly added Salesforce dropped over 48%.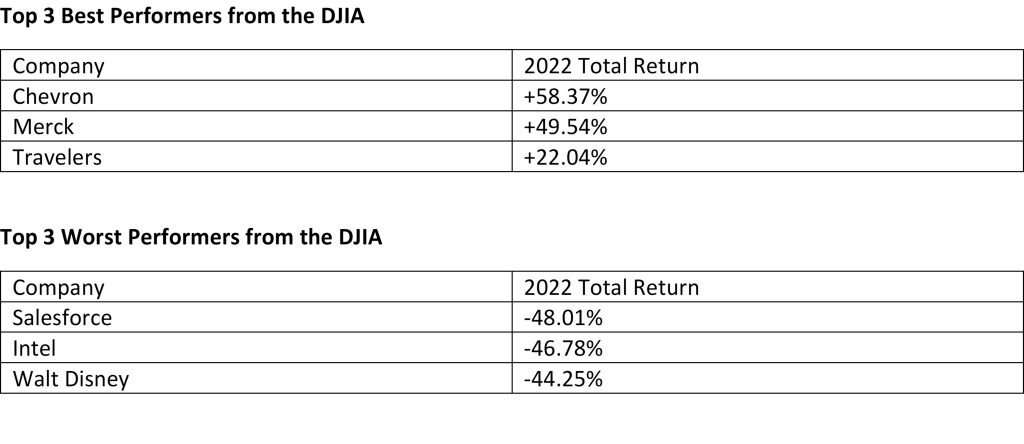 What Financial Advisors Will Predict

Let's be honest, did you think that Chevron could skyrocket more than 50% last year and that Walt Disney would be cut in half?
But here is what financial advisors do know: every large, powerful company has good and bad years. And trying to determine future performance based solely on past performance is a bad idea.
So, who will be the best performer for the rest of 2023? It's anyone's guess. Hence, the Madness.
And the reason mutual funds are so popular.