September 30, 2015
50 may be the new 40 but does that still work for retirement planning?
Last week, Jeff sent me an article titled: Gen X is sleeping through its retirement wake-up call.
I was on a 4 hour flight so I had plenty of time to think about it.  The premise of the article is that generation x is fast approaching retirement and they are wholly unprepared. The article is right, this is a generation that has experienced some big shifts in personal finance and the stock market. 
First, what is a "gen xer"? This group now ranges from age 35 to 50 and falls between the millennials and the baby boomers following the drop in birth rates post 1964. Comparatively there are significantly less of them than boomers or millennials. They came of age in the 80's and 90's and were subsequently the first generation to widely experience dual income families, higher divorce rates, major downsizing, the rise of the internet, and the 401k. Oh, and Michael Jackson's Thriller.  
Is this generation avoiding retirement planning or is there more to the story? According to the article Gen X appears to be hiding from retirement planning realities:
TCRS had the Harris Poll survey American workers and compared those results with other surveys it had commissioned since 2011. Among the findings: While Generation X has inched closer to retirement, it has grown increasingly less interested in planning for retirement. Specifically:
45% of Gen X workers prefer not to think about or concern themselves with retirement investing until they get closer to their retirement date, up from 35% in 2011.
While 11% of Gen X workers said they had no sources of information for retirement planning or investing in 2011, today 25% say that. They're not using retirement calculators, getting 401(k) advice at work, reading money articles or meeting with financial planners.
And although a smaller percentage of boomers and millennials told TCRS they don't know as much as they should about retirement investing than said so in 2011 (63% of boomers, down from 71% in '11 and 73% of millennials, down from 82%), the needle barely moved for Gen X: 66% now and 68% in 2011. 
Obviously, Gen X feels financially insecure, but with good reason. A 50 year old investor has seen the market return a measly 2.6% annually during the last 15 years. Baby boomers on the other hand saw returns of 23% annually from age 35 to 50.  
In 2008 we saw a credit crunch, a housing bubble, and high unemployment.  Layoffs triggered reduced income – combined with reduced property values and the inability to refinance many working families cashed their investments (including 401ks) to pay their bills. The market has grown significantly since the bottom but with depleted balances, Gen X retirement accounts have been slow to gain. This problem has only been exacerbated by the economy's slow recovery. When I work with families in this age group a common concern is that they find it increasingly harder to save despite the fact they are back to pre-recession income levels.  In fact, incomes are largely flat or down from 2007 (the last period of labor market health) while the costs of goods and services have risen about 15%.
During this same time period financial services firms have done little to gain clients' trust.  I borrowed a chart from the Yale Law Journal that shows SEC penalties over time: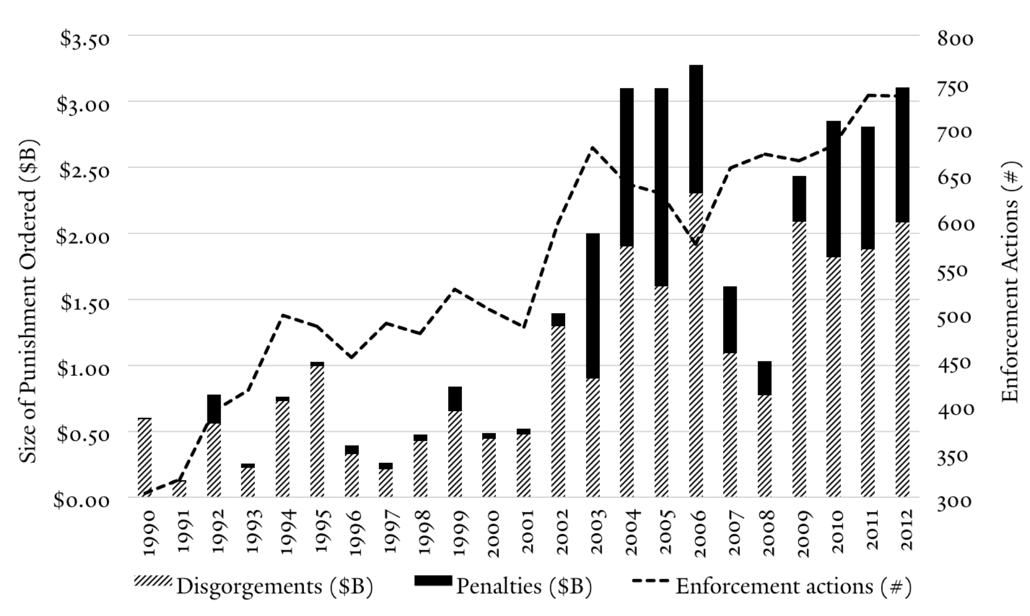 Most Gen Xers feel like the industry is out to sell them something, not give them unbiased, honest advice and they are right. A typical financial advisor is a glorified salesperson, not a highly trained professional.  More and more people are working with fiduciaries and the SEC has promised to bring more transparency to the market but the industry still has a long way to go. So where do we go from here? Regardless of income or savings many Gen X families still approach their finances with fear. If you are saving for retirement, working with a financial planner will help you to understand where you are financially and where you want to be.  Working with a firm like Gainplan, that is built specifically for financial planning, can make a big difference. 
Gainplan LLC provides links for your convenience to websites produced by other providers or industry related material. Accessing websites through links directs you away from our website. Gainplan LLC is not responsible for errors or omissions in the material on third party websites, and does not necessarily approve of or endorse the information provided. Users who gain access to third party websites may be subject to the copyright and other restrictions on use imposed by those providers and assume responsibility and risk from use of those websites.
This commentary on this website reflects the personal opinions, viewpoints and analyses of the Gainplan LLC employees providing such comments, and should not be regarded as a description of advisory services provided by Gainplan LLC or performance returns of any Gainplan LLC Investments client. The views reflected in the commentary are subject to change at any time without notice. Nothing on this website constitutes investment advice, performance data or any recommendation that any particular security, portfolio of securities, transaction or investment strategy is suitable for any specific person. Any mention of a particular security and related performance data is not a recommendation to buy or sell that security. Gainplan LLC manages its clients' accounts using a variety of investment techniques and strategies, which are not necessarily discussed in the commentary. Investments in securities involve the risk of loss. Past performance is no guarantee of future results.